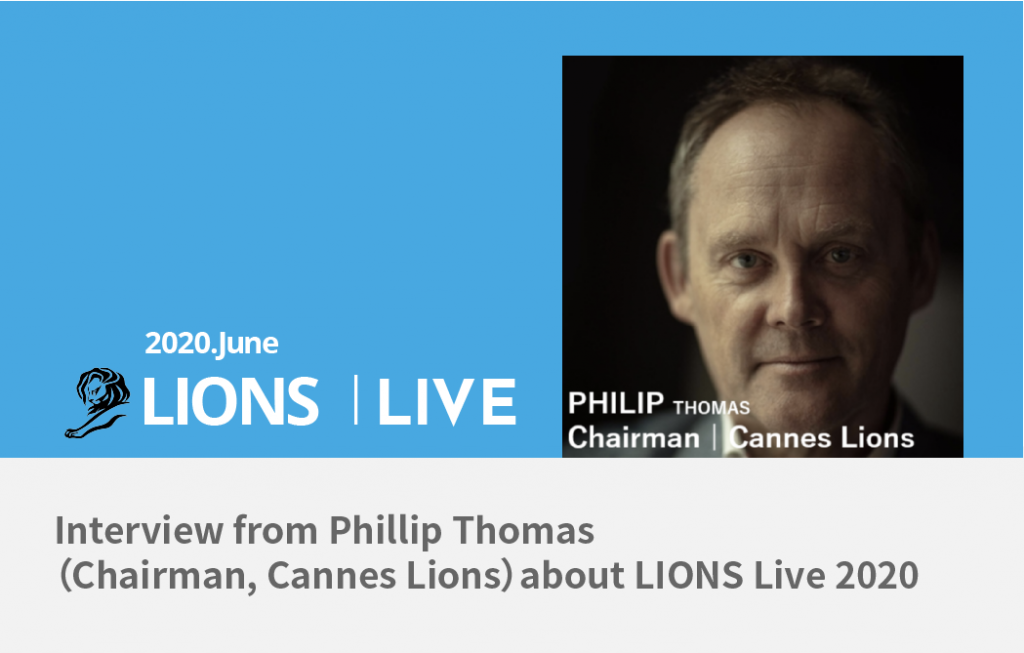 We have interviewed Philip Thomas, Chairman of Cannes Lions , for exploring LIONS Live2020.
Please find his comment of LIONS Live and enjoy the festival.
①Please explain your perspective on Lions Live, what made you decide to execute this fantastic event?
When we took the very difficult decision to cancel the Festival, we knew that we still wanted to support our global community in what are challenging and unprecedented times.
So this is how LIONS Live came about.
It's taking place in what would have been the Cannes Lions Festival week, 22-26 June,
and it will offer a digital experience with compelling content, creative celebration through the Global Lions Creativity Report of the Decade and the Lion of St. Mark Award, and valuable insights, reports, whitepapers and learning to help impact culture and drive business results.
From the brands adapting to fast-shifting consumer behaviours to the agencies adjusting business models and the pioneers innovating future solutions – we want everybody to come together to collaborate, problem solve and address the future.
②Cannes Lions has played an important role in the world trend. It may be stimulation sometimes and antithesis the other times. What role should Cannes Lions take in the hard time like these days?

We've always held creativity at our core and we believe that creativity matters now more than ever.
We're in unprecedented times now, but I don't think that means we need to take on a different role – it's about doubling down on what we've always stood for and offered.
We know that brands who invest in creativity achieve net higher results, and we also know that brands that invested heavily in creativity and brand-building activity during the last recession recovered nine times faster than the competition.
So right now, we want to provide the platform for creative inspiration and learning – a space where our global community can refresh and reboot to use creativity to drive progress.
③COVID-19 has affected our society in many ways. Do you see any influence to the spirit of Cannes Lions and/or the programs of Lions Live from COVID-19?

The LIONS Live agenda has been shaped by the eight content themes which we originally identified for the 2020 Festival but of course these will be cast in a new light given the effects of Covid-19 and #BlackLivesMatter.
There's a community spirit that I would say is stronger than ever – the industry wants to connect and collaborate to work things out together.
④What do you expect the audience to learn from Lions Live?
LIONS Liveは、今の業界の立ち位置、前進する方法を示すバロメータのような役割であると思っています。他者から学び、私たちが直面している共通する課題を解き明かし、グローバルな展望を語り合う機会であると思います。
⑤Please talk about the essence of Lions Live as a chairman of the festival.

Well I actually only have one word here: creativity.
⑥There are so many new categories added every year. Some of them sound the same as the other. Creative Business Transformation is the brand new category in 2020. Could you define the category and how it evaluate?
The Lions always remain a reflection of the industry landscape.
This means we introduce new Lions as a result of the evolution of the industry.
We also regularly update the Lions and we're not afraid to get rid of one altogether if we believe it's no longer relevant.
The Creative Business Transformation Lions have been introduced to celebrate the creativity that drives businesses forward, and the creative thinking that changes how businesses organise themselves, how people work internally and how customers engage.
⑦Could you make a comment to our creative society and communication industry?
Right now, the difficult thing is to keep a sense of perspective, and especially to remember what an incredible industry this is.
I asked our partners at the UN what message they would like the creative community to hear right now.
They pointed me to a speech the Secretary General gave early in the crisis:
"We have a responsibility to 'recover better'," he said. "More than ever before, we need solidarity, hope and the political will to see this crisis through together."
Solidarity, hope, political will — to which I would add, creativity.